Teeth Whitening Houston, TX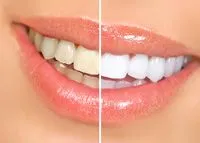 It's hard to imagine anything more appealing than a sparkling, white smile. Yet our teeth rarely stay as white as we'd like them to without a little help. Fortunately, that help is available at Griffith Dental Associates in Houston, TX. Teeth whitening done in a professional dental setting is a safe, effective way to brighten your smile. It's also perhaps the most economical cosmetic dental procedure.
Depending on the whitening method you choose, results can be dramatic: in-office whitening, for example, can lighten teeth three to eight shades in a single hour. Professionally supervised whitening will work faster, and protect sensitive gums and tooth-root surfaces better, than over-the-counter whitening products.
Having an oral exam before you begin any whitening process is an important first step to make sure your tooth discoloration is not the result of a dental condition in need of treatment. Also, please be aware that it can be risky to have whitening solutions applied to your teeth by untrained personnel in shopping malls. If you have any questions about which whitening method would be best for you, talk to us first.
There are many products and techniques available for patients who want to achieve a brighter smile, and with so many options available, it can be difficult to choose the method that is right for you. The best way to begin any teeth-whitening regimen is to schedule an appointment and talk to your doctor about the differences between in-office professional whitening and at-home whitening.


In-Office Teeth Whitening
The first professional option is commonly referred to as in-office whitening. This procedure is performed in a dental office. During an appointment, your dental professional will apply a whitening gel to the surface of your teeth. The entire office visit generally takes about 90 minutes and you will be able to see results immediately.


At-Home Teeth Whitening
Tray Whitening
Tray bleaching is a type of professional whitening that uses custom-made trays and whitening gel only available through your dentist. The whitening gel is placed in custom-fitted trays that fit perfectly over your teeth. As the peroxide in the gel breaks down, hydroxyradicals help whiten stained teeth. Unlike strips, this process whitens all your natural teeth and may contain ingredients intended to provide maximum comfort. At-home professional tray whitening generally takes ten to 14 days, although you may notice results in as little as three to five days.
Paint-On Teeth Whiteners
There are many over-the-counter teeth whitening options, and one type of readily accessible whitening products is commonly referred to as a "paint-on" teeth whitener. Paint-on whiteners can be purchased over-the-counter and generally are less expensive and less effective than whitening strips or professional options. Paint-on teeth whiteners consist of a gel that is applied to the tooth using a small brush. Paint-on whitening gel hardens into a film that coats the teeth, and dissolves in the mouth. As with any teeth-whitening regimen, it is wise to consult with a dental professional before use.
Teeth-Whitening Strips
Teeth-whitening strips are thin, flexible plastic (polyethylene) strips with a thin film of hydrogen peroxide on one side. Whitening strip kits come with two types of strips: strips for the upper teeth and strips for the lower teeth. The whitening agent is applied by placing the strips across your teeth and gently pressing the strips to ensure contact with all your teeth. Teeth-whitening strips are typically worn for 30 minutes a day, twice a day. The duration of treatment will vary.
Whitening Toothpaste and Mouthwash
The least expensive options are whitening toothpastes and mouthwashes. Designed to have "whitening" capabilities, toothpastes and mouthwashes work to remove surface stains using mild abrasives. However, unlike the materials used in professional whitening procedures, these products do not lighten the actual color shade of the tooth. Whitening toothpastes affect surface stains and will mildly lighten your teeth.


Caring for Your Whitened Smile
There are lots of things you can do to make sure your whitening results last as long as possible, and this will vary from person to person (six months to two years or even longer). First of all, please maintain your usual, conscientious routine of brushing and flossing every day, and keep up with your regular schedule of professional cleanings at the dental office. Avoid foods and beverages that stain, including red wine, tea and coffee. If you smoke, use your newly whitened teeth as an impetus to quit — a good idea in any event! A minor touch-up every so often, either at home or at the dental office, can keep your smile bright and beautiful for years.


Take advantage of professional teeth whitening treatments at our Houston, TX dentist office! Call Griffith Dental Associates today at

(713) 523-1666

to book an appointment and be one step closer to a brighter smile.